Recreation center «Krasnaya Polyana»
Krasnodar region, Sochi, an urban-type settlement of Krasnaya Polyana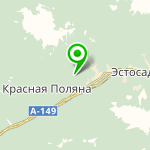 →

On map
Baza Otdykha Krasnaya Polyana is located in Krasnaya Polyana, near Sochi And in the Krasnodar Region. This activity centre is located near the sea in the picturesque area of the Caucasus. Here are regularly organized many excursions, Hiking and Hiking. Near the base many attractions worthy of admiration: the canyons of the psakho river, the trees, historical monuments of stay of prehistoric man, cave, waterfalls and beautiful mountain scenery.
The number of rooms located in a comfortable two and three seater.
Three meals a day. For guests is organized on the basis of the system "buffet". Also in the cafe you will be offered a rich menu: first courses, cold and hot snacks, ice creams, desserts, specialities and a wide selection of drinks.
Infrastructure:
comfortable hotel
tour Desk
health complex
outdoor pool
club with a disco, karaoke, Billiards, cinema and library
children's playroom
dining room, cafe
stores
Luggage storage
mini-Laundry
tourism equipment rental
To stay on the base you can also take a cable car and see the Olympic venues of the Winter Olympic games 2014 visit the open-air complex of the Caucasian reserve and meet the inhabitants of mountains and forests or to go for a visit to the beekeeper and sample the extraordinary healing Krasnopolyanskaya honey. Stay on the base is so diverse that staying here, you will discover new experiences. In addition, there was organized a medical complex with Wellness facilities.
Address:
Krasnodar region, Sochi, an urban-type settlement of Krasnaya Polyana
Nearest settlement :
g. Sochi - 63 km
You will also like it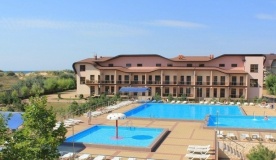 from 3 100 ₽/day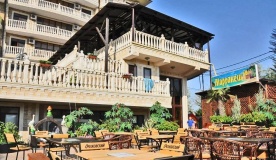 from 1 000 ₽/day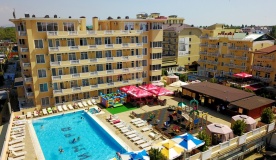 from 4 163 ₽/day
Prices may vary.
Check with the administrator
Servise
Rest
Bath
Tours
Pool
Disco
Karaoke
Food and drink
3 meals a day
Restaurant, cafe, bar
Rules and Policies
Arrival
00:00
Departure
00:00
Cancellations
Cancellation conditions will be specified upon confirmation
The absence of the guest
No-show is considered to be the arrival of the guest after 00:00 hours of the next day.
Penalty for no-show — 0% of the prepayment amount.
Children accommodation
Free of charge without a seat up to 2 years
How to get there
Krasnodar region, Sochi, an urban-type settlement of Krasnaya Polyana
Copied
To copy the coordinates:
On map
Comments
--

Service - 0 Rooms - 0 Food - No
Write to base
Только зарегистрированные пользователи могут отправлять сообщения.
Ответное сообщение от объекта размещения вы получите на адрес электронной почты, указанные при регистрации.