Отели/Базы отдыха
Экскурсии
Круизы
Country hotel complex «Pansionat AKVARELI 4*»
Moscow region, Naro-Fominskiy R-n, g Vereya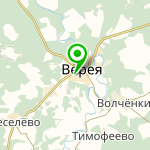 →

On map
Akvareli holiday Park– this suburban country hotel category 4 **** for individuals and families with children, business events. Is an hour drive from Moscow on the Minsk highway on the outskirts of the city Vereya river in a mixed forest. On site is an extensive orchard.
Room fund
All 54 rooms of "Watercolors" is located in 18 wooden cottages. Depending on the size of the cottage, it has from 1 to 6 rooms of different categories ranging from 35 to 80 sq. m. equipped with the most modern requirements of the rooms (telephone, refrigerator, kettle, LCD TV, air conditioning, bathrobes, Slippers, umbrellas, hair dryers, toiletries) are comfortable and cozy to accommodate up to 130 guests.

Infrastructure
an indoor pool with a summer beach with artificial turf, free towels, sun beds and umbrellas



entertainment center with bowling, pool tables, table tennis, air hockey
area relief mini-course

brass tyre

Russian wood-fired sauna with ice plunge pool

Finnish sauna with swimming pool and sensation showers

Japanese ofuro bath

Turkish Hamam

infrared sauna

In the summer:

professional tennis court with artificial grass,

free training tennis wall,

field for beach volleyball and mini-football,

covered area for badminton, basketball, outdoor games.

a court in the Russian towns.
In the winter:

large lighted skating rink,

the trails

ice mountain,

ATVs,

the snowmobiles.
Address:
Moscow region, Naro-Fominskiy R-n, g Vereya
Nearest settlement :
g. Vereya - 700 m
Distance from:
Kaluga - 87.6 km
Moskva - 100 km
Tver - 170 km
Tula - 155.1 km
Resorts nearby:
Obninsk-Snow Park
- 47.39 km
Interesting places nearby:
Kompleks «Borodino» - 42 km
Svyato-Pafnutev Borovskiy mujskoy monastyir - 40 km
Spaso-Borodinskiy jenskiy monastyir - 38 km
Servise
Services
Wi-Fi
Parking
Transfer
Laundry
Rental
Pets allowed
In agreement
For an additional fee
Payment
Cash
Bank card
Bank transfer
Mobile communication
MTS
Megaphone
Beeline
Tele2
Yota
Other
Rules and Policies
Arrival
18:00-00:00
Departure
16:00-00:00
Prepayment
100% of room rate
Cancellations
Free cancellation 3 days prior to arrival.
In case of cancellation less than 3 days before arrival the penalty will be 50% of the received prepayment.

The absence of the guest
No-show is considered to be the arrival of the guest after 00:00 hours of the next day.
Penalty for no-show — 50% of the prepayment amount.
Children accommodation
Free of charge without a seat up to 4 years

A baby cot is provided at extra charge.

Children under 11 years are accommodated on extra place at a discount of 60% from its full value.

Special conditions

["

Allowed accommodation with Pets (cats, dogs, small animals) in certain rooms.


For stays of 4 nights (5 days, 4 nights) cost equal to the cost of the day on weekdays.




"]
How to get there
Moscow region, Naro-Fominskiy R-n, g Vereya
By car:
Along the Minsk highway (85 km) to pointers – "Dorokhovo-Vereya" and "Akvareli holiday Park". Before the traffic police post, turn left (to Vereya). Go along the main road to the sign for "faith", turn right on a secondary road and drive along it to D. Simbukhovo. Turn right (sign "faith"), go along the main road. Having reached in Vereya, move to the "Watercolors" according to the road signs.
Copied
To copy the coordinates:
On map
Comments
4.2

Service - 4.5 Rooms - 4 Food - 4
Write to base
Только зарегистрированные пользователи могут отправлять сообщения.
Ответное сообщение от объекта размещения вы получите на адрес электронной почты, указанные при регистрации.