Hostel.ru talks about one of the most amazing recreation of Karelia – "the farm of Sulukule".
The farm of Sulukule located right among the woods and rocks on the shore of the Ladoga skerries near the village of Lapp group. According to the authors of "Sulukule" is a real forest village! Translated from the Finnish of "Sulukule" means "deaf/forest village". Guests will experience this concept as soon as I get the territory promised by the owners.


The style of village life from the late 19th century, items of those times and the General appearance perfectly fit into the modern understanding of comfort and neatness. So don't be alarmed, the spirit of the nineteenth century, there was a professional designer styling.
Khutor provides guests with opportunities for fishing, hunting, ecotourism, and, of course, just for a relaxing holiday on the shores of lake Ladoga.
---
Accommodation
%class%
Twelve family houses with a capacity of up to 5 people: 3 main beds and 2 extra. Each cabin has a kitchen area: cooker, fridge, dishes and a fireplace, satellite TV and Internet, bedding and bath accessories. Houses have their own patio terrace with area for barbecue, benches and table. By the way, firewood, skewers and barbecue facilities are available free of charge.
For large and very large companies the recreation center is ready to provide opportunities for group accommodation – up to 36 people.
---
Location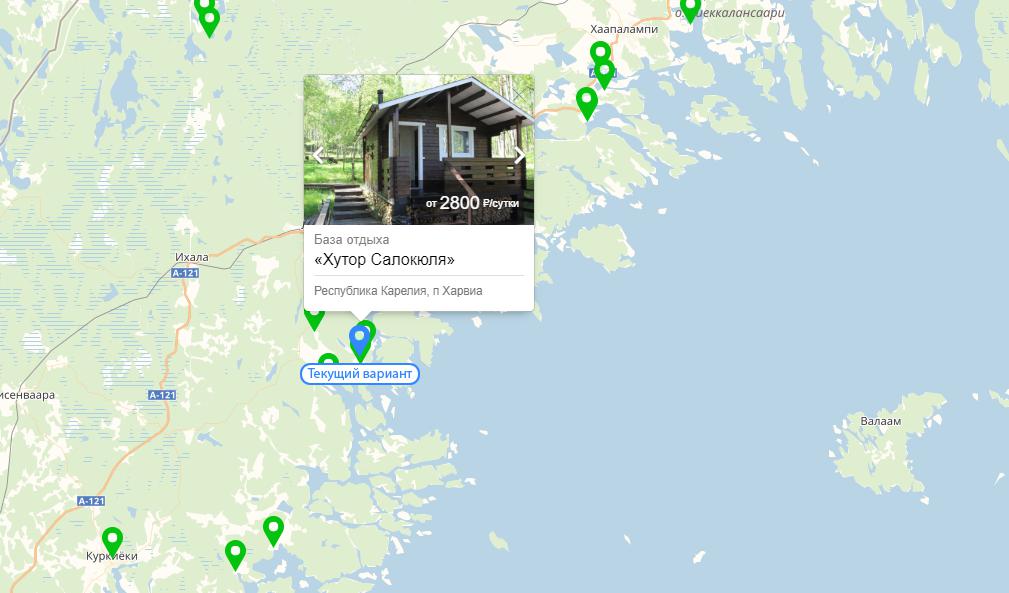 Nearest town: Cherepovets - 10.2 km
Distance from: Murmansk - 846 km, Petrozavodsk 221 km, Saint Petersburg - 166 km, lake Ladoga - 25 m
Interesting places nearby: Mountain Park "Ruskeala" - 50 km, Valamo island - 38.7 km
---
Why this is cool?
Guarded Parking with video surveillance – to ensure motorists.
Mini-farm – raccoons, rabbits, chickens, pheasants, geese – for wildlife enthusiasts.
A small shop with the farm products.
Hire of snowmobiles, boats, fishing and sports equipment. In the winter we practice and organize the dog sledding.
On site is a mini-Museum of the Karelian way of life: let's see what lived Finns and Karelians in the nineteenth century and how they led everyday life.
Bath in the water – steam Yes, once in Ladoga! Tried?
Tours of the main attractions in South Karelia: Marble canyon, Sortavala, mountain Owl, waterfalls.


---

Stock
The project "Winter days"
Period: from 01.12.2018 to 29.04.2019
When you rent a cottage on weekdays from two nights - discount on the admission to baths 25%.
Share "5 weekdays"
Period: from 23.11.2018 to 30.04.2019
When booking five working days from Sunday to Friday discount
according to the promotional program each month.
Detailed information by phone or on the official website
Event "birthday"
Period: from 23.11.2018 to 30.05.2019
Birthday discount and offers up to 15% on all services, including a week before and a week after the date of birth.
Event "Smart days"
Period: from 23.11.2018 to 31.12.2019
from 25.04 till 31.05 and from 01.10 until freeze-up. When you rent a cottage on weekdays from two nights – discount on boat 50%.


Hostel.ru with love for the Karelian beauty recommends "the farm of Sulukule". We love Karelia for fresh air, unusual landscapes, incredible nature. "Sulukule" is an ideal place for your excursions in Karelia.

Like the object in the Ladoga lake? View cheap recreation on the lake Onega.