Tourist complex «Serebryanyiy bor»
Krasnoyarsk Krai, Krasnoturanskiy rayon, the village of Krasnoturansk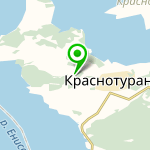 →

On map
Tourist complex "Silver pine forest" is located on the outskirts of the village of Krasnoturansk of Krasnoyarsk region, near the Krasnoyarsk reservoir. The territory is surrounded with pine forest. Guests can spend a wonderful holiday with family or friends surrounded by the unique Siberian nature.

Room fund
It offers cosy rooms that are located in two storey cottages. Each room is comfortable and equipped with furniture, has Central heating.
Food
Is available cooking. Each cottage features a shared equipped kitchen with all necessary appliances and equipment.
Infrastructure
The property has a private sandy beach. Guests can visit the floating bath. Rental equipment. Equipped Playground.
Show phone

+7 (927) 062-XX-XX
Address:
Krasnoyarsk Krai, Krasnoturanskiy rayon, the village of Krasnoturansk
Nearest settlement :
Krasnoyarsk - 206.9 km
Resorts nearby:
Termosumki bridge
- 40.61 km
Krasnoyarsk Zagorje
- 49.76 km
Gladenkaya Mountain
- 14.74 km
You will also like it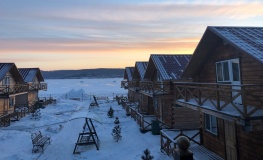 «Solnechnyiy bereg»
from 4 000 ₽/day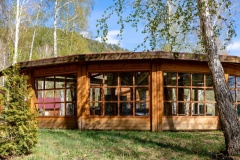 «Manskaya Petlya»
from 3 800 ₽/day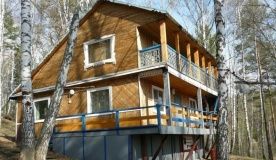 «Berendey»
from 950 ₽/day
Prices may vary.
Check with the administrator
Separate beds
•
2-bed
•
Sofa
•
Upholstered furniture
•
Separate beds
2-bed
Sofa
Upholstered furniture
Room amenities
Shower
Table with chairs
TV
Refrigerator
Kettle
Servise
Rest
Bath
Grill
Sandy beach
Tours
Rules and Policies
Arrival
00:00
Departure
00:00
Cancellations
Cancellation conditions will be specified upon confirmation
The absence of the guest
No-show is considered to be the arrival of the guest after 00:00 hours of the next day.
Penalty for no-show — 0% of the prepayment amount.
Children accommodation
Free of charge without a seat up to 2 years
Special conditions

plumbane;
equipment rental;
the sports ground.
How to get there
Krasnoyarsk Krai, Krasnoturanskiy rayon, the village of Krasnoturansk
Copied
To copy the coordinates:
On map
Comments
2

Service - 2 Rooms - 2 Food - No
Tourist complex «Serebryanyiy bor»
Tell the administrator that you found this object on the turbaza.ru
Write to base
Только зарегистрированные пользователи могут отправлять сообщения.
Ответное сообщение от объекта размещения вы получите на адрес электронной почты, указанные при регистрации.