The base of rest "Deer" is located in the most picturesque place in Murmansk region, on the river Kola — and combines everything needed for a comfortable stay: spacious grounds, cozy cabins with private facilities, a beautiful restaurant in the Russian style and a large Banquet hall "hex" with audio equipment with karaoke. In addition, it offers a barbecue and a real Russian Banya.
It really is an unforgettable vacation that will allow you to enjoy the peace and tranquility of nature, the unhurried flow of the river and forget about the hustle and bustle of everyday life.
Active guests can rent a snowmobile or go ice fishing.

Room fund
The camp site is a complex of 12 double cabins with private facilities (shower, toilet, electric heating, hot water, wardrobe, bedding, personal hygiene items) and 3 two-storey houses with capacity for 4 people.
Food
Offers a 3-course meal consisting of various dishes of traditional Russian cuisine. Breakfast, lunch, dinner in the cosy dining room (separate building).
Lunch on the river at the organization of the fishing trip.
Infrastructure
Sauna, garden furniture, BBQ, snowmobile rentals, Banquet facilities.

Address:
Murmansk region, Kola R-n, W/DST Loparskaya
Nearest settlement :
Loparskaya - 7 km
Distance from:
Murmansk - 39.9 km
Petrozavodsk - 760.8 km
Sankt-Peterburg - 973.3 km
You will also like it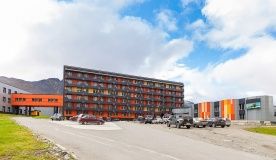 «Tirvas»
from 2 300 ₽/day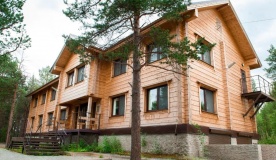 from 3 300 ₽/day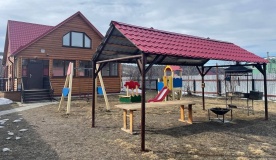 Gostevoe podvore «Tihoe mesto»
from 12 900 ₽/day
Prices may vary.
Check with the administrator
Warm floor
•
Separate beds
•
Wardrobe
•
Room amenities
•
Comfortable house for two.
Each house: bathroom with shower, two beds, table with chairs, wardrobe and a small vestibule. There are houses with double beds. All furniture is made from solid pine.
Warm floor
Separate beds
Wardrobe
Room amenities
Shower
Table with chairs
Separate beds
•
2-bed
•
Sofa
•
Fireplace
•
Spacious and comfortable house can accommodate 4 people. In the house: two bedrooms (there are houses with 4 single beds or 2 double beds), large living room with fireplace, TV and sofa, a small snack bar (in the same style as in the restaurant) and a bathroom.
Separate beds
2-bed
Sofa
Fireplace
Room amenities
Shower
Table with chairs
TV
Servise
Rest
Bath
Grill
Gazebo
On the shore
Karaoke
Rules and Policies
Arrival
13:00
Departure
12:00
Cancellations
Cancellation conditions will be specified upon confirmation
The absence of the guest
No-show is considered to be the arrival of the guest after 00:00 hours of the next day.
Penalty for no-show — 0% of the prepayment amount.
Children accommodation
Free of charge without a seat up to 5 years
How to get there
Murmansk region, Kola R-n, W/DST Loparskaya
Copied
To copy the coordinates:
On map
Comments
1

Service - 1 Rooms - 1 Food - 1
Write to base
Только зарегистрированные пользователи могут отправлять сообщения.
Ответное сообщение от объекта размещения вы получите на адрес электронной почты, указанные при регистрации.